Summer is Upon Us!
For my boys...school was finished by May 17th. We've been keeping pretty busy since then with our Summer Bucket List. I've got ideas everywhere...Pinterest, my trusty spiral notebook, and from an Awesome Master Summer Bucket List Linky over at Little Wonders' Days!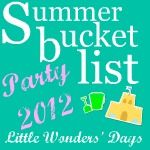 I thought it was high time to get my hiney in gear and put them all in one spot and share them with you!
Catch Lightening Bugs
Visit the Zoo
Play in Sprinklers (and make some of our own!)
Explore a few New Parks
Play at the Children's Museum
Explore Downtown Omaha
Pick Strawberries and Raspberries
Lots of Swimming
Plant Veggies and Flowers
Take a Day Trip to Lincoln
Visit the Farmer's Market
Participate in the Library Reading Program
Work on our Summer Bridge Workbooks
Walk to DQ for Treats
Make Superhero Capes
Weaving
(Louie)
Make Pretzels
Visit the Roadside Chapel in Gretna
Make Butter
DIY Bouncy Balls:
Version One
&
Version Two
LOTS of Science Experiments
Make Rain Gauges
Body Paint
Make Dinosaur Soap
Built a
Foil River
and Sail
Origami Boats
DIY Moon Sand
Pour Paint Rainbow Flower Pots
Make LOTS of Popsicles and Snow Cones
Pull Taffy
Make Pool Noodle Light Sabers
Water Pinatas
Crazy Art Projects (Splat Paint, Bubble Paint, Spray Paint w/ Bottles, Ice Cube Paint)
Bubble Experiments
Make Sponge Water Balls
Melted Crayon Art
Fourth of July Crafts
Make Jolly Rancher Lollies
Marshmallow Poppers
Make Father's Day Presents & Interviews
Fence Weaving
Paint Sticks
Make Slushies
Make Suncatchers
Dye Yarn with Kool Aid
Make Cinnamon Pickles (Grandma's Recipe!)
Make an I-Spy ABC Photography Book
Camping Inside
And the Grand Finale of our Summer! Drum Roll....
We're packing up the Van and Driving from Nebraska to Washington State on a Two Week Road Trip!
So I'll also be making a long list of things to occupy our kiddos on the road!